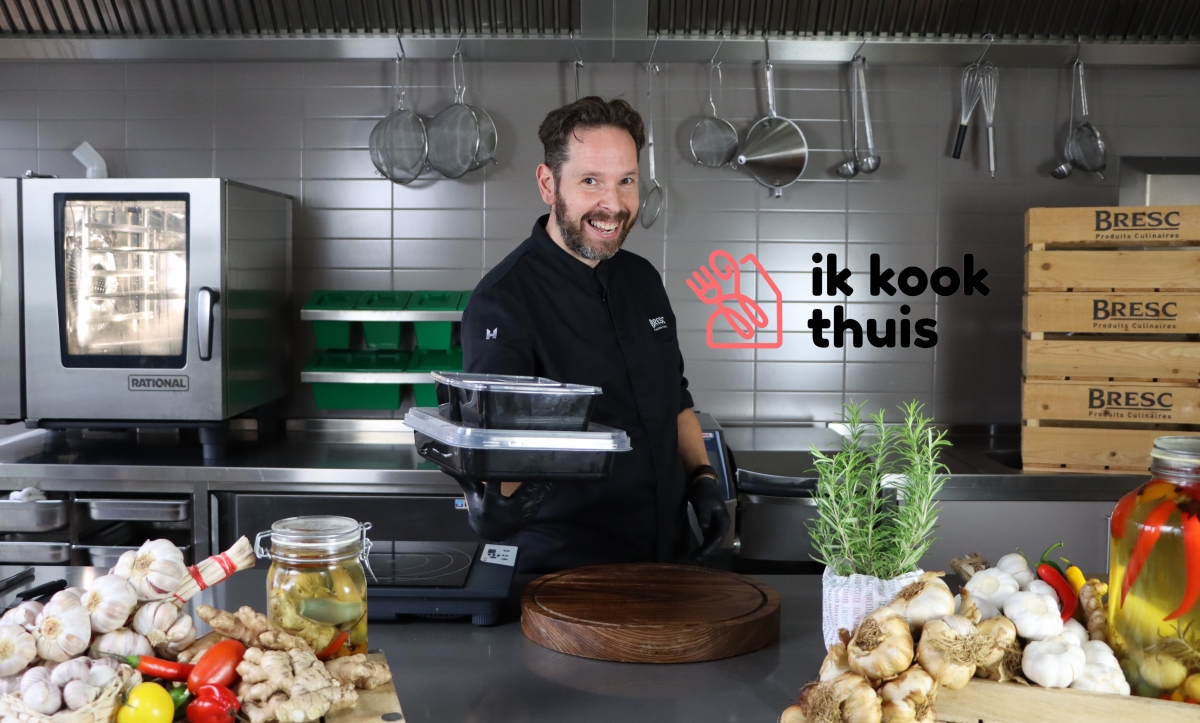 Bresc wants to help out today's chefs. Normally, our help consists of our chilled products that reduce mise-en-place work. Of course, we are still producing these items, but we thought we'd go that extra mile so, in record time, we set up a cookery video platform and devised a plan to video chefs while they cook their meals. The scheme will offer all hospitality businesses the option of selling meal kits - meal kits are proving to be a wonderful instrument in this pandemic. Their preparation requires less work, the margins are excellent and restaurants can serve more customers with them. However, not all restaurants have kitchens suitable for recording the cooking instructions, let alone the equipment to record them properly and the know-how needed to edit and upload the videos. Bresc will take care of all that. All the restaurants need to do is sign up. We will invite the chef to come and video the meals in Bresc's own kitchen where he or she will have a film crew at his or her disposal (the set-up is absolutely corona-safe).
This service is free of charge and there are no strings attached
If the hospitality industry is doing well, then Bresc does well too. That's why we've decided that all businesses in the hospitality industry can sign up for this project, even if they don't normally work with Bresc's products. In fact, there is no obligation to use Bresc products to cook with while making the video either. Bresc just wants to help out today's chefs.
How the cookery video platform works
The idea is simple but effective. Businesses who want to join our scheme can just sign up for it. We will give them 3 hours to record videos in our professional kitchen in Werkendam. Then, we get the videos ready and upload them to www.ikkookthuis.nl From then on, the restaurants participating in the scheme can start selling meal kits which will help them make their mark and stand out in the market. Moreover, they can keep the close ties they have with their guests and keep them entertained (a fun evening in the kitchen) at a time when there is not much else to do.
What do you need to do if you join in?
If you have a hospitality business and want to join our scheme, please follow these instructions:
Sign up by sending an email with your phone number to: ikkookthuis@bresc.com
Choose one or more dishes for your meal kit(s)
Prepare the mise-en-place in your own kitchen
Come to Bresc in Werkendam at the appointed time (don't forget your mise-en-place)
Cook the meals while explaining how to do it; we will record it and edit the video
Result
Once we have videoed how you cook your dishes, we will upload the videos, with your logo and address details, to ikkookthuis. We will supply with you our business cards with a QR code printed on them. Don't forget to add them to the meal kit so your customers can find the videos. Start selling meal kits so your guests can enjoy a very special evening of dining out at home!
If you want to join our scheme, which is free of charge and without any obligation to buy our products, just send an email to ikkookthuis@bresc.com with your name and telephone number. We will be in touch with you very quickly so we can schedule a video session. Appointments will be made in the order of the applications received.