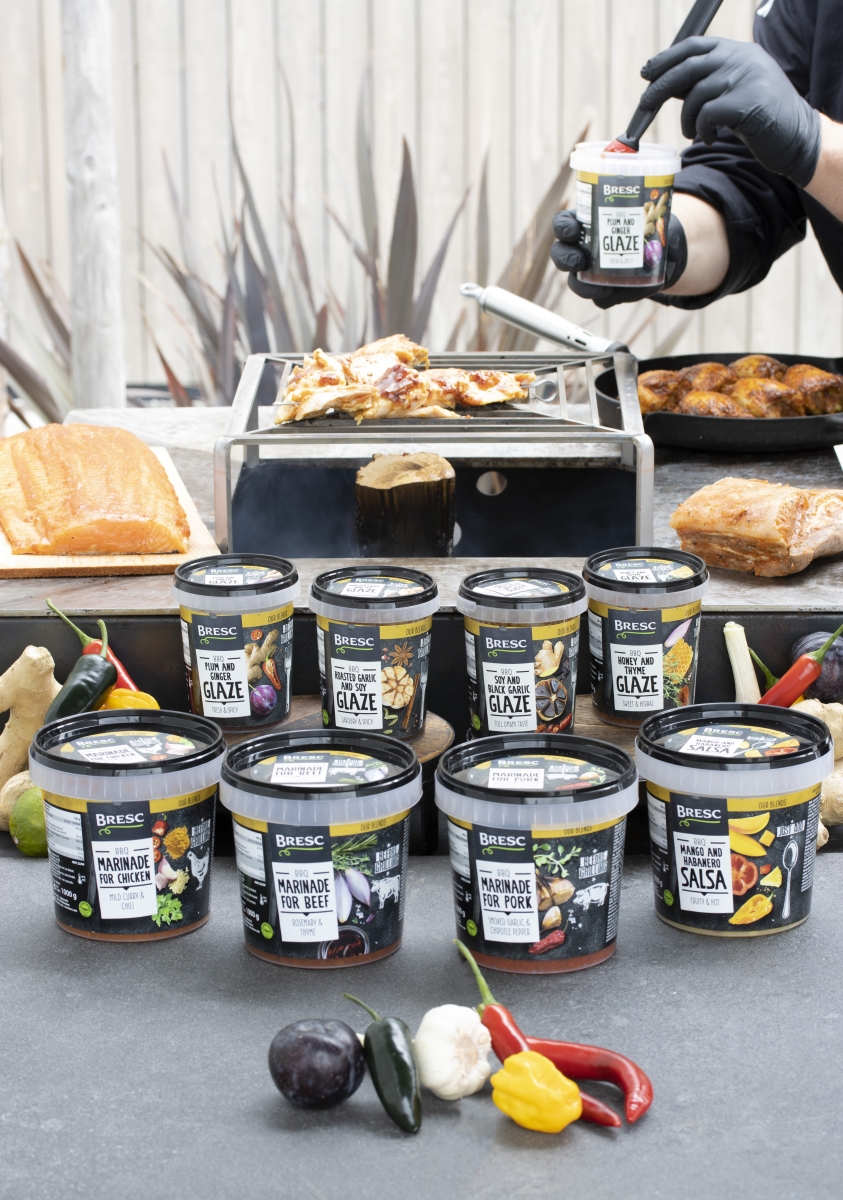 Summer is just around the corner! That means your restaurant terrace can stay open until late, and you can do plenty of barbecues. Bresc is introducing a completely new BBQ & Grill series, with no fewer than eight new products: water-based marinades, glazes for unique flavours and gloss, and a fruity salsa for a perfect topping. Delicious new products for hospitality professionals looking to actively work with (outdoor) barbecues and grills and wants to vary flavours without fuss. Available from now on at the catering wholesalers.
Many marinades are oil-based, but Bresc has decided to create these new water-based marinades because then the flavour of the herbs, garlic and spice can work much more deeply into the core; another advantage is that the marinade will not scorch while on the grill. This series contains three kinds: chicken, beef and pork; however, the marinades go very well with fish and vegetables too, of course.
For even more flavour and a glossy finish, we have four new glazes Soy & Black Garlic, Honey & Thyme, Plum & Ginger and Roasted Garlic & Soy. Brush one of these glazes on the piece of meat, fish or vegetables just before the end of its time on the grill. They are ideal for regenerating, giving the dish a unique taste and gloss. The marinades and glazes are perfect for combining with each other for maximum flavour sensation. For instance, the Plum & Ginger Glaze, with its fruity tones, is a new favourite that goes well with our spicy marinade for beef. Even with the arrival of autumn, this glaze is a great addition to any kitchen.
Your dish isn't complete without a tasty finishing touch. Our ready-to-use Mango and Habanero Salsa will top off any dish with a hint of the tropics. This salsa is both fruity and hot, and produces an amazing visual effect in any dish.
The new series of flavourings is a response to the current trend for outdoor cooking: barbecues and grills have become an indispensable, year-round, dining experience in the hospitality industry. This new series goes perfectly with vegetables to create exciting vegetarian and vegan dishes, as well as the standard uses for fish, meat and chicken. If you are looking for more inspiration, visit our platform Bresculinair.com where we present a number of delicious BBQ & grill dishes. In the coming period, our culinary advisors will travel up and down the country to inspire you in one-on-one sessions, and to introduce you to this new concept. Keep an eye on our social media to see our latest updates and find more inspiration!